(foreword: this post contains FOUR animated GIF. leave it to load before reading so to enhance the reading pleasure lol.)


One word.
"W

ond

er

s

o

m

e

f

ec

t

."

I never really celebrated Xmas.
The times that I celebrated Xmas can definitely be counted with my fingers.
(tho my fingers wouldnt be enough if you were to count my age)
As I recall, the last last time I celebrated was in
ah rong's
aaronng
's house.
back in 2005. lol. When I was all innocent and naive and
cute
...
NOT
.
p/s: just recently I met QP in jonker , that means the last time I saw her was years ago lol.
it was somehow awkward as both of us are with different partners after years of not meeting tsk
And the last Xmas celebration that I could remember was
It was gathering for the high school peeps
and also farewell for Paul Goh.
It was the twins' open house anyway.

LAST year
,
yes last year 2008's Xmas .
was VERY different.
the 1st round was
gathering
celebration with high school kakiis.
It was days before Xmas.
We didnt take any group photos.
I was just busy eating.
We paid Rm30 each.
Imagine how much food was there.
We had BBQ,
We had fried beehoon+fried rice,
We had two homecooked curry chickens,
We had a carton of 100+,
We had fried nuggets,
We had 200 satays.
We had only 10+ peeps.
Therefore...
The special guest was xiaobai's xiaobai.
LOL.
Proud wey because I was the one who gave pakfoong the nick and he got himself a pet who is also a xiaobai
(direct translation=small white?)
I wonder why dint I gave him the nick of mighty white instead of small white.
(Direct translation for mighty white = chao ji bai)
and heres the
super noisy+annoying
PUPU

who barks like 24/7,almost...
p/s:please dont get deceived by its looks.
dun pray pray.
And the countdown celebration LAST year was not the usual Portugese Settlement which used to be a stone throw away from my old house.
Instead, i was in Ringo(a bistro lounge in jonker opposite geographer cafe)
Guess who?
Doubtless,
My baby
lor :)
along with her..
..cousin.
and also
Her
super sporting & cute
granny and cuzie's family.
I felt honoured somehow :)
And then...
I
We stared to meng-exhausting-kan the camera.
Hell no.We werent trying to act cute
tho we looked like we were
It was supposed to be muaxies lol.
The accidental lalaness in the photo triggered me to shoot more lala-wanna be pics LOL.
WARNING : THE FOLLOWING PHOTOS MIGHT CAUSE ERECTION.
LEAVE NOW IF YOU ARE EASILY-AROUSED BY LALANESS.
Ready?
3
2
1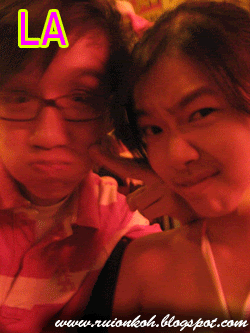 That was a mild one.
Watch this.
YAMATEH neh.
After
orgasm
sprayed.
(The guy on the right was frm SFI aka Jeremy if im not mistaken)
There was this lucky draw held by ringo.
4621529 and 461527 both got picked.
Note: ours= 4521528.
lucky draws are meant for the unlucky ones?
wOOt.
sour grape. haha.
well, fated.
simply because..
god knows I was already having the
best xmas gift
in my arms that night
XD
By the way,
dont underestimate Ringo as a lounge or bistro.
There was hot booty shaking action going on that night.
can you?
P/S: MERRY XMAS to everyone.
I know im not late.
(I was told that Xmas lasts for 12 days)